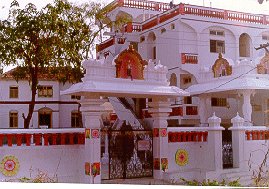 Sri Laxmi Narasimhaswamy Kshetra Shri Dharmapuri Arya vysya Vasavi Nityanna Satra Sangham,Dharmapuri
"Anna Daata Sukhibhava" is a old saying from the Hindu myths and they significantly emphasized the importance of the 'Annadaanam'(Offering the free food to needy) as the heighest service to the poor .This holyservice attiains a greater value if it is performed at any Sacred place or piligrimage centre.The Dharmapuri Kshetram which is also called Daxina Kasi,the ancient Laxmi Narsimha khetram is a right dias for the 'Nityanna Daanam', where thousands of the devotees visit to have a holy dip in sacred Godavari and darshan of Lord Laxmi Narasimha everyday.The following extracts from the ancient andhra mythology emphasizes the value of the ' anna daanam' at Dharmapuri
"Dharmapuri kshEtramana annadAnamiDina annadAtala puNyambu lenna taramA
pancha BUtAlu paramAtma paravaSincha vAnchitArthambu lIDErchu vArikepuDu"
Which means the devotees who ever offer the free food to the piligrims at Dharmpuri will be highly credited and in return they will gain what ever they wish.
"The Arya Vysysa Community" who are always the front runners for social and spiritual activities decided to start such a great service for the piligrims who visit dharmapuri every day and shaped to their plans in the form of "The Aryavysya vaasavi Nityanna Satram "
The Aryavysya vaasavi Nityanna Satram.is inagurated on 6.6.93 at the sacred piligrimage destination,Dharmapuri to cater the needs of the large spreaded Arya Vysya Community and offer the piligrims 'free food' i.e.Annadaanam.It is the second in its kind in the Karimnagar District.Besides offering Free food service to the Arya vysaya piligrims it also provides the accommodation for them.The positive thinking,good planning and the dedication towards the project lets the Satram to grow within short span of time.Now over Rs9,00,000 Bank deposit and a state-of-the-art and well furnished own building of Rs 4 lac worth are added to its credit.Another more Rs 20 lac invested for the building for its expansion and "kanyaka prameshwari temple" which was inagurated recently. Satram also congregate nearly 0.1 acre more land for the expansion of the building.To continue the Nityanna danam without any cessation and for its development activities, it needs more funds. Being a non-profit voluntary organisation,it is obviously backed by the benevolent and generous donars to contribute more to function smoothly.To take part in the holy mission, satram invites all devotees to come forward and donate the sum in any form for the satram.
Vasavi nityana satram anounces a scheme to accept grants,gifts and donations and according to this scheme all donars and contributors will be the memebers of the satram and they are entitled to few previlages offered by the satram.The details for accepting the donations are furnished as follows
Scheme Type
Amount
INR(Rs)
Amount
USD($)
Saswata Nityannadanam
21,116=00
516=00
Samrat Poshakulu
21,116=00
516=00
Maharaja Poshakulu
5,116=00
116=00
Raja Posahakulu
3,116=00
80=00
Vyavasthapaka Poshakulu
2,116=00
60=00
Sadharana Sabhulu
1,116=00
30=00
The Aryavysysa Satra sangham Once again appeal to the Devotees to contribute to the holy "Nityannadaana Seva" and subscribe any of the above scheme.The D.D/cheques and Money Orders can be accepted and The D.D.should be drawn in favour of "Sri Laxmi Narasimha Swamy Kshetra Sri Dharmapuri Arya Vysya Vasavi Nityanna Satra Sangham,Dhrmapuri" Payable at S.B.H,Dharmapuri(Code NO 141) ,Dt Karimnagar,Andhra Pradesh India